The Long-billed curlew is a beautiful shore bird, mottled reddish brown with an absurdly long, curved beak. If you live along the coast, you've probably seen them skittering up and down the tide line, poking their highly sensitive beaks into the sand, searching for crustaceans. Carrying that beak around seems like a farcical burden.
Only the curlews don't know that.
My wife and I recently came back from a trip to Yellowstone National Park with Road Scholar. We were among the lucky ones who got to soak up the exquisite beauty of the park—before the devastating floods this past week. We saw wolves frolicking with their pups, herds of bison holding up traffic for an hour or more, and golden eagles swooping in to feed their young. We also saw assorted horns and antlers: moose and bighorn sheep and mountain goats. Of course, weighty antlers—and beaks—serve a purpose. Males are attracting mates as well as protecting themselves from competitors. Still, forty-pound antlers is a high price to pay.
It got me thinking about what burdens we humans carry around—that like the curlews and bighorn sheep and moose—we aren't aware of. Burdens that others see, but are hidden from us. Blind spots. Old wounds triggered by a childhood smell or the mere mention of an incident long ago. These reactions, largely unconscious, were helpful coping mechanisms, but now only weigh us down. Like forty-pound antlers. Or over-sized beaks that stab our loved ones when least expected.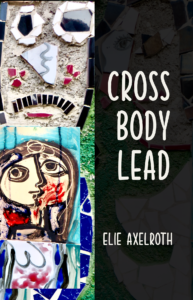 The characters in my second novel, Cross Body Lead, are also burdened. With hubris and trauma, distractions, apathy. Billie Ochoa teaches Cold War politics at a small liberal arts college; she is driven by her passion for justice, so driven she alienates those around her. Eddie Pike, who is stalking another student on campus, is a veteran suffering from PTSD. Is he too wounded to ever see beyond his own needs?
Perhaps our own metaphorical antlers and beaks are the very reason we're drawn to literature. Through the lens of story we understand ourselves better. We are shaken up, infuriated, moved to tears by these fictional characters. In that struggle, we see the world more broadly. With compassion, pity, concern, anger, sadness. From Joyce Carol Oates in The Atlantic (How Reading Makes Us More Human): "Reading is the sole means by which we slip, involuntarily, often helplessly, into another's skin, another's voice, another's soul."
Invite Me To Your Book Group!
I love being invited to book groups who've read Cross Body Lead. The discussions are rich and freewheeling and personal. Sometimes I hear new insights I hadn't even intended! Many of my readers have had experiences with stalking. Or with a bureaucracy that seems incapable of acting with compassion. Or with veterans so terribly broken by their experiences they find it difficult, if not impossible, to move on. In these discussions, we grapple with what each of these characters brings to the page. What we as readers bring to the page. And ultimately, how we can better understand each other.
I hope you will read Cross Body Lead and let me know your thoughts about the book. Or better yet, invite me to your book group. You can contact me through the comment section. And please, if you liked the book, write a review on Goodreads or Amazon. It's a great way to support authors and help readers find their books.
Happy reading and I look forward to hearing from you!