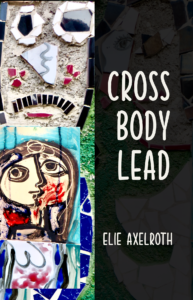 I'm thrilled to announce that my second novel, Cross Body Lead, is now available from Bookshop.org where you can support your local bookstore. Or from your favorite retailer in paperback or Ebook.
How far would you go to right an injustice?
At a college campus across the bay from San Francisco, Billie Ochoa teaches Cold War politics and Cuban history. She is charismatic, unapologetic, resolute. Inspired by her dead father's love for his Cuban homeland, she's a regular at a salsa dancing class at the local community center, and an advocate for the vulnerable, marginalized and exploited. When one of her students is being stalked, Billie is forced to take matters into her own hands. 
Where's the title come from? Unless you're familiar with Salsa dancing, you've probably never heard the term for this basic dance step. In Cuban Salsa, the cross body lead is known as dile que no, or say 'no' to her. It's a way of changing direction, of seamlessly leading into another step, of letting your partner know: we're not going this way, we're going that way.
Like the main character of my novel, Billie Ochoa. She's an impassioned history professor and a regular at a Salsa dance class in downtown Oakland. Enchufa. Setenta. Dile que no.
The novel surrounds a stalking on the college campus where she works. Billie is desperately trying to protect one of her students. At every step of the way, she's told by her department chair, colleagues, the counseling clinic director: "sorry, no, we can't do that." Dile que no.
Until recently the title of my book was The Year We Did Nothing. A perfect title, I thought, for capturing the frustration of my protagonist. No one is willing to shake up the status quo. Despite harm done, nothing changes. Until Billie takes matters into her own hands. That was before a global pandemic confined most of us to the narrow footprint of our homes, venturing out only when necessary to go to the grocery store or to walk the dog. We thought sheltering-in-place would last a few weeks—six at most.
As the months ticked off, I became more and more aware that The Year We Did Nothing would evoke one thing only: COVID. Despite our refrain, 'don't judge a book by its cover,' I had to acknowledge the assumptions that would be made just from reading the title. How many people are ready to read a novel about COVID? While we're still living it?
It took some getting used to, this new title, Cross Body Lead, like changing a baby's name when they're three years old. But I like it now. It's evocative of the passion of my protagonist. And a tribute to everyone who's ever heard dile que no, but refused to be thwarted from taking the next step.